Barcelona · Honeymoon Part 5
THE HIGHLIGHT REEL
The Sagrada Familia - WOOOOOOWWWWWW!!!!
Exploring the little alleyways and markets and streets of Barcelona in general ♥
Buying FIREWORKS!!!
Exploring Montserrat.
Being trapped in an undercover area during a thunderstorm at Park Guell, and enjoying an impromptu concert from the two musicians busking there.
THE NOT SO FUN STUFF
Poor Dan started to get sick towards the end of our time in France, which escalated into a really bad head cold for the whole time we were in Barcelona, so we didn't get out or do as much as we had planned.
Trying to get our Spanish sim cards to work.
Buying fireworks is not something that one can do in Australia, so you betcha we did it in Spain!!! You will have to come back to my next post from Spain to see the end result though!
SAGRADA FAMILIA
This is worth every penny.
Hopefully we can get back there when it's finished in another ten - fifteen years.
As a lover of light and colour, this is an absolute MUST SEE.
The detail in the architecture is amazing enough on it's own, but those stained glass windows turn it into a colour-and-light-lover's paradise ♥ ♥ ♥
PARK GUELL
This is one of my favourite memories from Barcelona.
We couldn't find transport, so we ended up walking all the way there (do not recommend) and I was pooped by the time we got there.
Then a thunderstorm rolled overhead, and we were suddenly trapped under this undercover area in the first photo while we waited for the storm to pass.
There were two musicians busking under there, and it was so good. Everyone crowded around them, they sang a few hit songs in English and we were all singing along to them, before they serenaded us with some gypsy flamenco music. It was just the best ♥
I have a bunch of video, but not many photos, I was just too busy enjoying the moment I guess =P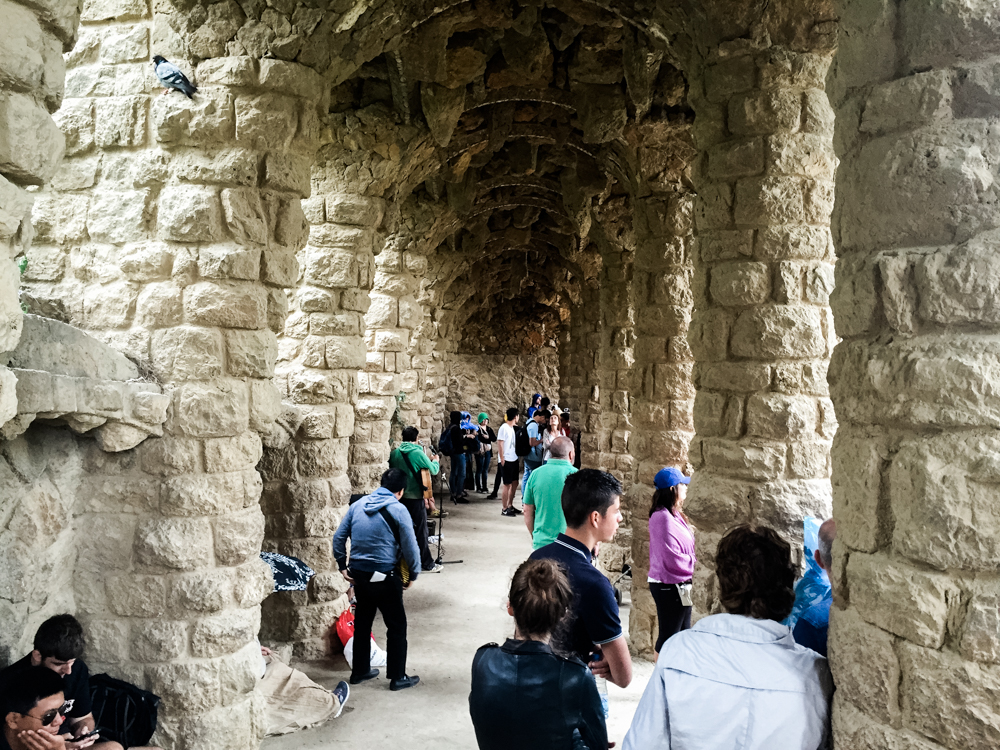 montserrat
Absolutely worth the day trip!!
It reminds me a lot of Meteora, a similar site I was lucky enough to visit in Greece. Both Meteora and Montserrat look like a backdrop in a sci-fi movie or something, they almost don't look real.
We caught the cable car to the top, then catch the rack railway and hike up Montserrat which was a lot of fun, and we also got to listen to the famous boys choir which plays in the abbey there, my memories are sadly a little fuzzy but my travel journal says that I thought they were very angelic.