Scotland · Honeymoon Part 1
You know when you plan a holiday, and it doesn't really feel real? It's just so huge and so grand and so exciting that you kind of secretly think that it will never happen? And then you are so busy working in the lead up to your holiday that you don't have time to think about said holiday, and all of a sudden you find yourself all packed, sitting on a plane, ready to take off and you still don't really believe that it's happening?
It didn't even feel real when we got off the plane in Edinburgh; I think this was purely because we left Melbourne (in winter) while it was 11 degrees and raining, and arrived in Edinburgh (in summer) to 11 degrees and rain...
But as soon as we arrived in the city centre, it hit me.
We had made it!
We only had six days in Scotland, and 2.5 days in Edinburgh (because hello, I"m an energiser bunny on crack when I travel and need to see allthecountriesallatonce) and it really wasn't long enough. I feel like we barely cracked the surface of Scotland and neither of us were ready to leave.
EDINBURGH
DAY ONE
This city stole my heart within minutes of arriving. I'm not sure how to explain it. It's so old, so timeless. History is steeped in it's bones, and I could feel it everywhere we went. When I was younger I used to love writing fantasy (and I still love reading it) and I'm equally fascinated by medieval history, so my imagination was going into overdrive as we wandered through the old town.
Our first day was quiet, it was rainy and cold (I have a new dis-appreciation for sleet) so we spent the day staying close to our accommodation, wandering Old Town, exploring the streets and just getting lost exploring the city. We spent some time at the National Museum to avoid the rain, also just because we are nerds and I love ancient history. They had the most amazing exhibition on Celtic history, which totally blew our minds. It's such a mysterious culture, they never wrote anything down, so it was amazing to see just how widespread the Celtic influence on art was throughout Europe. It was such a cool thing to learn about at the very start of our trip because we spent the rest of our holiday seeing Celtic symbols and influences almost everywhere we went.
Here are a few of my favourite photos from our wanderings.
EDINBURGH
DAY TWO
Did you know that in Europe, a cappuccino looks like this???
Yeah, me either!
[Disclaimer: I do not like black coffee, and we obviously did not sample cappuccinos from every cafe in Europe, but almost every single cafe we went to served them to us like this...]
By day two of our European Adventure, we were in pretty desperate need of some coffee, so we went on the hunt. We ended up walk 30 minutes trying to find a cafe that looked like it served 'normal' coffee - I swear I had never been so happy to see a coffee before in my life. I was so excited that I broke one of my cardinal rules [which is to never photograph my food] and took a photo of my coffee.
Look how beautiful it is....
After we were done making love heart eyes at our coffees, we headed back to Old Town, and explored Edinburgh Castle and WOAH that place is huge, and awesome and so full of history.
We didn't pre-purchase tickets online because we didn't know what day or what time we wanted to go, but when we arrived the queue was 1 hour long to get tickets. Thankfully we had bought sim cards with data the day before, which meant that I could jump online to buy tickets and 5 minutes later we were inside and exploring! #winning. The crown jewels were also really cool to see.
You also can't really go to Edinburgh and not do a whiskey tour (according to Dan) so we stopped in at the Scotch Whiskey Experience next to the Edinburgh Castle. I don't like whiskey, but it was really interesting to learn about the whiskey-making history and process, and Dan enjoyed it (helps when you get to drink your wife's samples too!).
I really wanted to walk up Arthurs Seat too, but we were still suffering from jetlag and kind of exhausted so we went for a wander through Calton Hill instead, which gave us a pretty fab view of Arthurs Seat and Edinburgh (including a replica of the Acropolis in Athens which seemed really random at the time).
THE HIGHLANDS
DAY THREE
The plan had been to go straight from Edinburgh to Culloden and Loch Ness and spend the day exploring, but Dan's work friends detoured us via Scone Palace, so we could eat scones at Scone Palace.
It was an incredibly beautiful manor and the grounds were really beautiful - and we got to meet our first Highland Cow ♥
After we had our fill of scones at Scone Palace, we headed off to Culloden which was a few hours drive away. The scenery is freaking BREATHTAKING (nothing compared to the drive from Culloden to Isle of Skye though).
As a dedicated fan of Outlander (the books and the TV show) there was no way I was going to miss a visit to Culloden to visit the stone cairns.
Dan had no prior knowledge of Scottish history here, and I had no idea that there was a full museum there! It took us about three hours just to get through the museum, but it was an amazing exhibit. If you are planning a trip, make sure you allow lots of time to go through it!
We had to zoom off to Loch Ness so we could check into our accommodation - we stayed in one of these cute little armadillo houses - our hosts were lovely and our little hut was awesome. Squishy, but awesome! There is also a mini farm full of horses and ducks and chicken and lambs that you can hang out with.
Next time, on our much, much, much longer trip through Scotland we will spend some more time exploring around Loch Ness. We only had long enough to stand along it's banks for a few minutes in the fading light.
ISLE OF SKY
Day four
Day Four, and we are on the complete opposite side of Scotland, heading over to the Isle of Skye.
The scenery is dramatic. Breathtaking. Just out of control beautiful. There aren't too many photos, because I was too busy just enjoying it and being in the moment (plus it's really hard to take a decent photo through a car window).
We made a pit stop at Eilean Donan Castle which was beautiful, and so full of history. You might notice that I'm not really taking any photos from inside the castles, you aren't really allowed to (you should go and experience it for yourself) and I wanted to be in the moment rather than one of those tourists who just walks around taking photos of everything - do not even get me started on how much I hate selfie-sticks....!!!
Here's a few photos I took as we drove into the Isle of Skye, to give you an idea of the scenery....
We were on a tight timeline because we had pre-booked a tour at the Talisker Whiskey Distillery (one of the things we had to pre-book as it was on limited times and days and we didn't want to miss out). The tour was great! You can tell Dan enjoyed it =)
The weather was so kind to us, we had the most beautiful of blue skies and the nicest warm weather so even though it was late in the afternoon we decided to make the most of it and explore the Cuilin's and go hunting for fae creatures at the Fairy Pools.
This place was insanely beautiful. Monstrous. I'm not sure if the photos really do it justice!
We ended up totally walking past the Fairy Pools - we saw them of course, but I was looking for the pools that I had seen plastered all over Pinterest. But of course, in real life the pool looked totally different to what the Internet told me to look for (it also didn't help that we were there in the afternoon, and the light wasn't ideal for taking photos). Still, once I realised I had actually found them it was beautiful to explore them fully.
ISLE OF SKY
DAY TWO
You may recall that I called myself a little crazy when travelling...this day was our most epic adventure.
We started with breakfast at our B&B at 7am, taking in this pretty spectacular view.
We then headed off to explore Dunvegan Castle.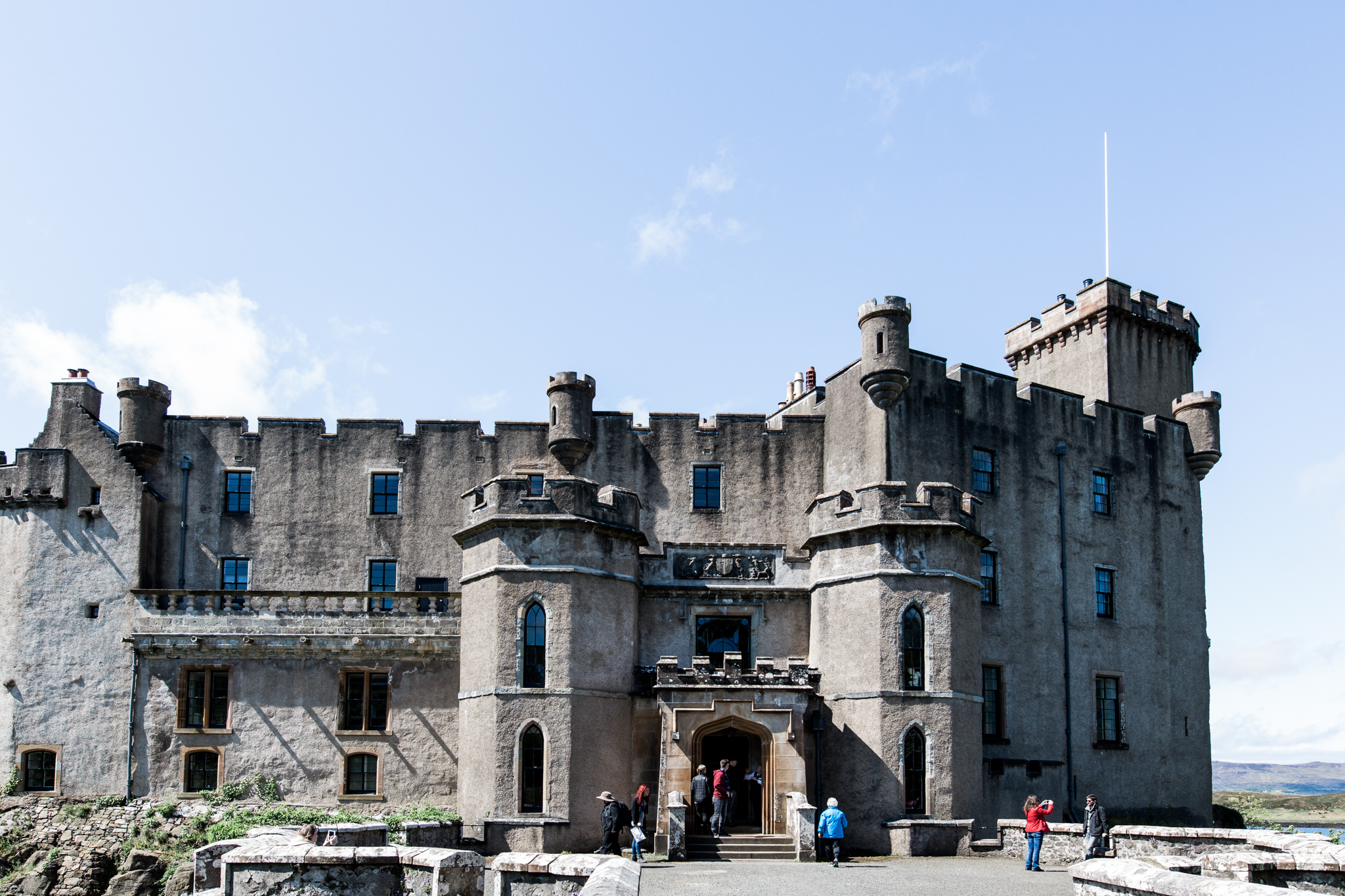 On the recommendation of our host, we then took a little detour to check out the Coral Beach of Skye. What he didn't really tell us was that it was a 45 minute hike each way from the car park!
It was absolutely beautiful to see (too cold to swim) but we had to hustle back to the car so we could head off to explore the Old Man of Storr.
We stopped for a quick lunch at a random pub (I can't even remember where) before we headed to Old Man Storr - it's about 3pm by now and we are stuffed, so of course the sensible thing was to head off on another 3 hour return hike...look, it was long, and hard, and uphill, but to stand in the clouds with my love was an experience I wouldn't trade for anything.
As we drove up to the Old Man Storr, the clouds coming over the mountain range were just so beautiful.
The wind was insane (and freezing) even at the base of the mountain, but we decided to go ahead anyway (naturally).
We were rugged up like marshmallows it was so cold!
When we reached the first plateau, the clouds and the wind were really insane, and we couldn't even see the Old Man Storr. The clouds magically parted at one point and we got a small glimpse of it - as well as the next 200 stairs up to reach it....I may or may not have called them the "f*** off stairs" I was SO DONE at this point but Dan was determined to reach the Old Man Storr and I wasn't going to sit around freezing my booty off while I waited for him so naturally I went up the f*** off stairs too.
It wasn't for the faint of heart, it was so windy and at one point we were walking along a goats trail with nothing to stop us rolling down a 100m mountain side.
The higher we got, the more the wind and clouds around us HOWLED. I wish I had some photos or video footage to show you what it was really like!
Visibility was awful and in the end, and when we a rock path we (meaning me) made an executive decision that I would huddle behind a rock while Dan climbed like a monkey up the last rock face to be able to touch the Old Man Storr (I was beyond caring at this point).
I managed to sneak one photo of the Old Man Storr from my hiding position in a rare moment where the clouds parted. That's how close I got!
In a funny twist, Dan met a dude at the base of Old Man Storr who had also left his girlfriend huddling behind a rock, but on the path in the other direction).
After we had arrived safely back at sea level, we decided that it would be the perfect time to drive another 1.5 hours around Skye to Neist Point Lighthouse to watch sunset (which was at about 10pm).
So we made it, and hiked down more stairs and up more hills to get to the lighthouse. For sunset. Which was then blocked by low lying clouds!
But it was okay, because as we were driving back to our B&B (at about 11pm) we saw this beautiful scene.
That was one of the biggest days of our trip, and we packed way too much into it - don't be like me! I really regret not booking us more time in Scotland, it burrowed it's way into my bones in a way that I never imagined was possible. It still hasn't left, even a year later I'm just dying to get back there. Next time we will take a month and just explore every inch of it that I could.
I'm building a bucket list just for Scotland, so if you have some suggestions of places and things to add to it leave me a comment!
xx