7 Tips to help you Choose A wedding photographer
So you've googled the heck out of wedding photographers in your area, asked your friends for recommendations and inquired with several different photographers.
But what do you do when you've got a few recommendations (and they all look great) or you've received so many different pricing guides (and they all look great too) - that you don't know where to start, or how to know if a photographer is right for you? And if you're the type of person who values photography, then choosing a photographer can be really daunting and overwhelming.
After all, you only have one chance to get this right, and you have to book a photographer purely based on trust; and that's a pretty big deal.
If this sounds like you, then you might be suffering from Photographer Comparison Anxiety.
And if you are - I'm here to help!
Here are some of my best tips to help you choose a great wedding photographer that is the right fit for you (which might not be me, and that is a-okay).
Tip #1
What's your photography style?
There are lots of different photography styles, and everyone defines these slightly differently – so bear in mind this is just to give you an understanding of the terminology we use and how it might apply to you and your style.
Traditional. Traditional photography harkens back to the days when our parents or grandparents got married – think very formal, very posed, very stiff photos. Your photographer would be in charge of how you position your bodies, move (or not) and will control everything up to the angle of your head or how your hand is laying on your lap. At the end, you'll have a gallery full of photos that make your mum and grandma happy, but this comes at the loss of all those magical in-between moments.
Documentary. This type of photography is very raw, and very candid. Your photographer will give you minimal, if any, direction on the day. They will try to be as invisible as possible, and capture things as they unfold around them. And while you might end up with some beautiful candid photos, this style of photography can leave you wanting for more. It takes great skill to be a documentary wedding photographer, and many photographers default to this because they don't know how to or are not confident in posing people.
Lifestyle. Lifestyle photography kind of falls into the middle, between documentary and traditional styles. Similar to traditional style, the photographer will control light, location and action. But instead of asking you to sit and smile, they will give you something to do, an action, ask you a question, because they want to capture your natural reactions and interactions with each other.
Editorial. These are the kinds of photos that belong on the cover of a magazine. Photographers who love this style normally have a lot of experience, and a love for, shooting fashion. It's a bit of a twist on the traditional style, lots of posing is involved, but the images normally have some kind of dramatic flair. There's a big emphasis on details, and it's more about capturing what your day looked like, rather than what it felt like.
Fine Art. Fine Art photography is the home of many modern film photographers. It's common for photographers who prefer this style to studied or have a heavy background in Art. Think wide sweeping shots, and very creative compositions, angles, poses and locations.
You should also have a think about whether you like light and bright photos? Or dark and moody (if so, I'm probably not your gal). Is your chosen venue light and bright, or dark and gothic? Will your photographer know how to handle this?
Personally, I'm a light and bright photographer - but as for style? I like to take a little from every style and make it my own!
Here's an example of how I blend the styles on a wedding day:
Getting ready: I approach the getting ready part of the day from a documentary perspective, you don't need much direction from me while you are getting your makeup done. However, when it comes to getting dressed, I move into lifestyle photography (I'll control the location, light and give you directions).

Detail shots: When it comes to taking photos of things like rings, shoes, dresses, I guess this is a blend of lifestyle and editorial. I will control the location of the items (rather than a documentary photographer would capture them wherever they happened to be), and style them in an editorial way, while trying to keep it as natural and true to your wedding day style as possible.

First Look: This is one of my favourite parts of the day, and I approach this mostly from a lifestyle perspective, with a hint of fine art. We'll find the perfect location, and once the scene is set, I'll ask the groom to turn around and let the rest unfold naturally. Afterwards, we'll spend some time capturing some romantic portraits of you both, which is a lovely blend of lifestyle and fine art.

Ceremony: Now I'm back to a documentary style - I'll stay out of the way, quickly darting in and out of the aisle to get the shots I need, so I'm not disturbing the guests or the officiant.

Formals: I'll miraculously transform into a traditional style photographer briefly to get the photos the parents and grandparents want. I like to be as efficient as possible, so that we can blast through these and focus on our favourite time during a wedding…

Bridal Party photos: the best time of all. I'll sweep the bride & groom and the rest of the wedding party away (unless we did this before the ceremony) somewhere fun for some lifestyle photos that will blow everyone away.

Reception: Back to documentary again, I let everyone relax and mostly forget that I exist. I like to wander around and capture those beautiful little moments during the evening that are largely unnoticed by everyone else.
This way I get to be creative, and you get a little bit of everything to give you the greatest variety of shots and styles. Even though I'm using several different styles of photography, the one thing that I aim to do with every photo I take is to capture the heartfelt emotions and real connections you share with the people in your life – and this is what ties your photos together.
Tip #2
How experienced are they?
Maybe you've got a friend or an uncle or a cousin whose got a camera and can take some photos for you - but do you really want to entrust one of the most special days of your life to a friend or family member? I've heard a lot of stories about brides trusting a friend or aquaintance to capture their wedding, and then that person has lost the photos, or has done an awful job. And in every single one of those stories? The relationship was either ruined, or heavily strained, plus my client had major regrets about not having photos from this day.
But a great photographer, one you like and get along with, can transform what might be an ordinary wedding into an extraordinary wedding. The more connected you are, and the more you get along (and the more experienced they are) the better they'll know how to anticipate the moments before they happen, which decreases the risk of them missing an important moment. Professional photographers know how to be patient when waiting for moments to unfold, and how to anticipate all the little in between moments - the stolen glances, tight hugs, your mum wiping away a tear during your ceremony, and let's not forget all those beautiful details you've spent months organising (and often creating yourself) from the handwritten letters to the table settings, and floral decorations – it's an art form and should be left to the professionals who are passionate about capturing these moments for you.
Tip #3
Do their photos make you feel something?
It's really important that you resonate with how your photographer captures connection, and the relationships between people - because that's exactly what weddings are all about. If looking at a total random person's wedding photos makes you feel something, then it's pretty likely that your own wedding photos will be even more special.
Also have a think about how your photographer tells the story of a wedding day. Almost anybody with a camera (or heck, even an iPhone these days) can call themselves a 'photographer' – but can they capture moments, and string those moments together to tell the story of your day?
It's very important that you love looking through your wedding photographer's work, everything from getting ready to the very end of the reception. At the same time, pay attention to what they display more of on their website. Detail shots? Reception shots? Or photos of people? Ask yourself what makes you feel happiest – photos of details or people? A photographer who shares mostly detail photos on their website, might not be the photographer for you if you prioritise photos of people.
Have a think about how you want to feel when you look back at your own wedding photos.
I want all my clients to feel happy, joyful, and emotional. Look, I'll be really honest here – I even want you to cry! Big, fat, happy tears are my Holy Grail. Every single photo should take you on a wander down memory lane, bringing back the laughter and happiness that you felt all day, to place you back in the that is as vibrant and as rich as when you first lived it. I want you to look at you and your husband, and see and feel how much love you have for each other. I want you to fip through your album with your little ones, and tell them how much mama and dada love each other, and I want them to see and feel it too. And one day, I want you both to pull down your album, on your 50th wedding anniversary, and coo over how young you look, and feel so grateful at having lived a life with someone so wonderful.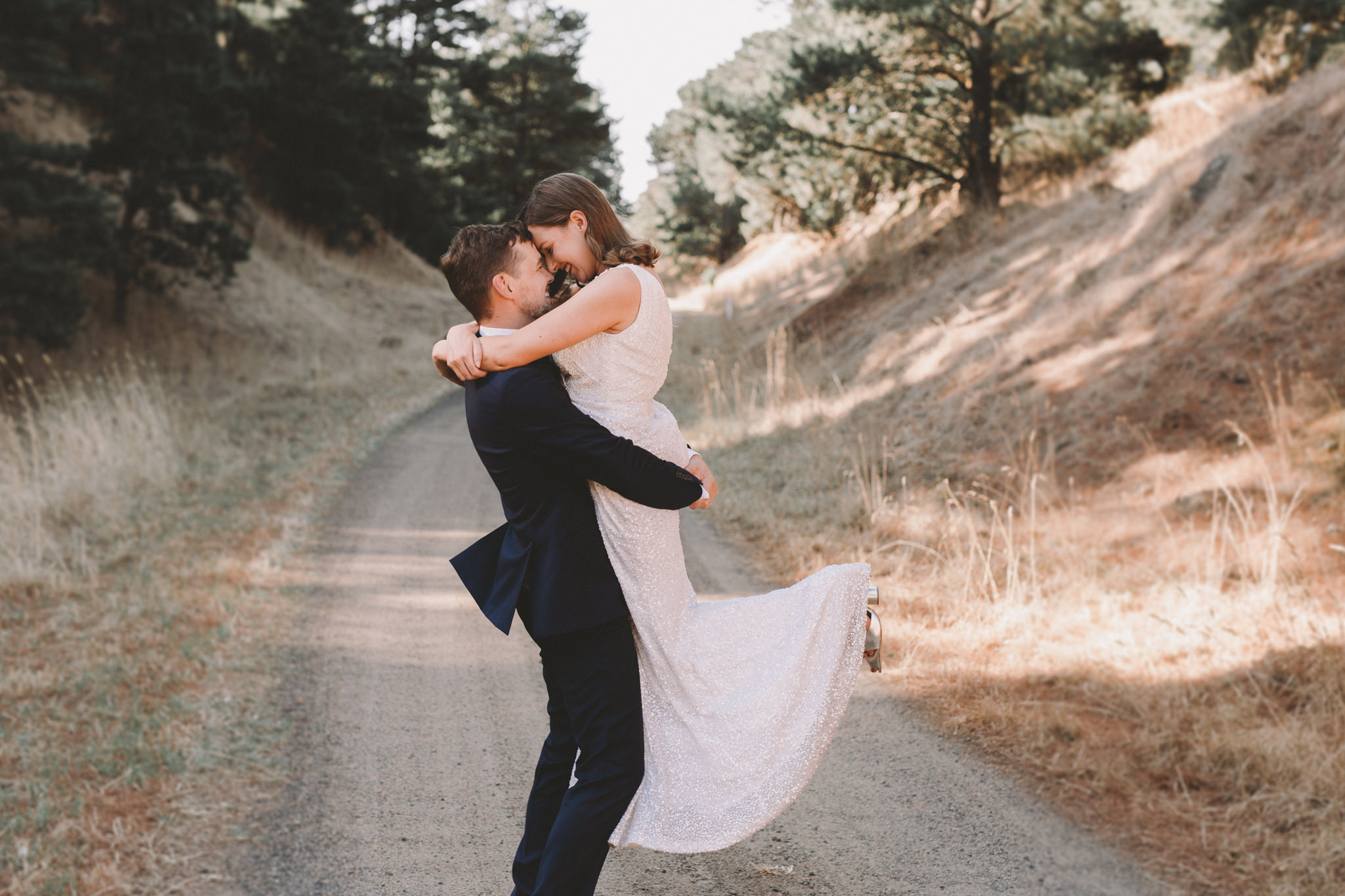 Tip #4
What's important to you - albums, prints or digitals?
How do you want to recieve your wedding photos? In this day, everyone wants digitals - so let me assure you that all my packages come with digital images so you can download and print, print, print! And it's so easy to print your images! But…it's time consuming. And the prints aren't even that great anyway, especially from budget labs like Officeworks and Kmart. And even if you have the best of intentions to print your images yourself, it can be one of the first tasks to end up on the bottom of the priority list. I should know, I am basically the poster child for this! It took me nearly 4 years after our wedding to order my own wedding album 🤦‍♀️.
This is why it is so important to make sure that albums and prints are included in your wedding photography package. I'll share more of my thoughts on the importance of printing with you in a later post, but for now I want you to think about what's important to you.
Tip #5
Do you like your photographer as a person?
This should really be tip #1 because I think this is the most important thing when choosing your wedding photographer.
You REALLY need to like your photographer as a person, and they need to make you feel happy and confident in your choice. You also need to trust them enough to let them do their thing – magic is created when you allow creativity to flow and your photographer will do their best work if they aren't restricted by your vision or a 100 strong list of must have photos.
You need to feel at ease in their presence, like you can crack a joke and have a laugh together because you'll be spending a lot of time with them on the day! And sure, they won't always be noticeable, but it'll make the times where they're working with you directly much more enjoyable (and actually fun).
Here are some things to think about, and questions to ask yourself when you meet your photographer in person:
Do they seem calm, confident and experienced without being arrogant?

Are they polite and friendly, relatable?

Do they seem confident enough to be assertive, and know when to fade into the background?

How helpful will they be in the leadup to your wedding, and what kind of resources and recommendations do they have for you?

Does the photographer make suggestions to you in a clear and respectful way, or are they timid?

Do they seem friendly enough to bring out your relaxed smiles?

Are they a good listener?

Are their mannerisms off-putting?

Are they relaxed and chill? A wedding is a living, breathing, unpredictable thing and your photographer has to be very go-with-the-flow and technically consistent no matter what (and I couldn't think of anything worse than having a perfectionist photographer stressing out over a change to the plan, or when something goes wrong or runs late - because this inevtiably happens at pretty much every wedding).

Do they seem like a person who gets you, who can make your wedding day truly fun and happy?

Is their personality consistent across their website, socials, emails and in-person?
At the end of the day, a photographer you really like, and who you have a genuine connection with, will be able to do a better job capturing your emotions - your love, your joy, your stillness. Just as a celebrant who gets YOU (and by you I mean you and your spouse) will do a better job with the ceremony, a photographer who gets YOU will do a better job capturing the magic of your wedding.
Meeting your photographer in person is the easiest way to figure all these things out.
Most photographers have a pretty casual approach to meet-and-greet appointments, and will usually take you to their favourite local café or invite you to their studio. These meetings are usually an opportunity to get to know each other, make sure your personalities get along, and to ask any questions you might have. It's also a good opportunity to view any sample albums or printed products they've got as well.
TIP #6
Do they have a contract and insurance?
A photographer without a contract, and without insurance, is a big red flag.
Recently one of my friends was looking for her wedding photographer, came across a guy who said (no joke) "Contracts are for shit photographers who know they do a bad job and need protecting). Ummmmmmmmm - WHAT!?
An ideal contract should protect both of you, and cover as many scenarios as possible. It's a two way relationship, and a contract is the easiest and most efficient way of making sure that you are both on the same page, and both have the same expectations.
Some things to keep an eye out for, that protect you:
What's included in your package? How long will your photographer be with you on your wedding day? Make sure it specifies time shooting, and how many photos you'll get - digital images? Edited? Albums? Prints? Make sure it's all spelled out in the contract.

What are the payment terms? Is there a deposit? When does the balance have to be paid by?

What happens if the photographer gets sick?

What are your entitelements to refunds if you need to cancel (should something really bad happen).
Here are some things that your photographer might include in a contract to protect themselves:
That they are the exclusive photographer.

That they get a meal during the reception.

What happens if one of your guests behaves inappropriately towards the photographer.

That the Photographer retains copyright in the original files, and edited files (and that you get the rights to print them or share them online)

A model release.

The length of time the photographer is obliged to store your photos.

How many time syou can ask for photos to be re-edited.

Privacy of information.

Limitation of liability.

Dispute resolution procedures.
Contracts don't need to be scary, and are so important. I can't tell you how many stories I've heard about photographers not sending out contracts, who then demand extra money to stay longer at a wedding (although they already said they would stay that long), photographers taking three times as long to deliver photos, or not delivering photos at all - and the clients get shafted because there's nothing to prove what they are saying is true.
Tip #7
How much does a great photographer cost?
I've planned a wedding, and I know how important it is to stick to your budget.
But choosing a photographer based purely on price is the wrong approach.
You only get one chance to get this right, and these photos will be treasured by everyone who loves you (not just you), and they'll be treasured by your kids and grandchildren and generations to come. Also - how often do you get all your loved ones together at the same place and time, and for a happy occasion? Not often.
It's important that you keep your budget in mind, but try not to get too fixated on price – if you absolutely adore their work, wouldn't you rather adjust your budget? After all, once it's all over the only thing you'll have left of your wedding day are your photos and your memories (and even those will fade with time).
Something important to mention is that the most expensive photographer isn't necessarily the best photographer either. It's more important that you resonate with their work, and like them as a person!
So how much does a great photographer cost?
A great photographer can cost anywhere from $2,000 to $15,000 - because what makes a photographer great is how much you love their work.
As an example, my wedding packages start from $3,000 and go up from there. And personally? I went two-freaking-thousand dollars over my own budget for my wedding photographer, because I was obsessed with her work and needed her to be there. And I haven't regretted that decision for a single second, and I cherish my wedding photos beyond measure.
Everything else is just noise.
Your wedding is a once in a lifetime event and after the day is finished, all you will have left is each other, and your wedding photographs. These photographs will be treasured by you for your whole life, and will be loved by your children, grandchildren and great-grandchildren one day.
So - yes, it's important that you keep your budget in mind, pay attention to things like composition, editing styles, story-telling skills and any other technical question you want.
But when booking in a photographer, do you feel confident that your photographer can not only capture what the day looked like, but also what it felt like?
If your answer is YES, then you found your photographer!
Want more information?
If you are an awesome bride looking for an equally awesome wedding photographer, I'd love to hear from you! You can find some basic info on my packages over here, and if you would like the full pricing guide hit the button below to get in touch with me!